---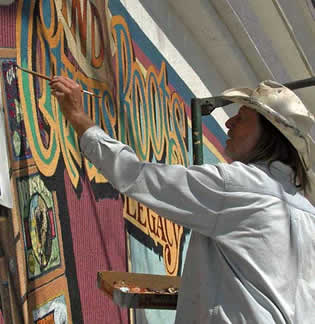 Cougar Park Mural


---

This mural is in a brand new park, called Cougar Park, in Covina, CA. Covina was once a major citrus growing area, and at one point in the early part of the the 20th century there were about 25,000 acres of citrus being grown in the Covina area. During that period there was a brand of oranges from Covina called Cougar Brand Oranges, from which the park takes its name.



Desert Illusion Mural


---

This mural is in the back yard of a private residence in Twentynine Palms, CA. The mural is painted on the side of the brightly painted guest house and faces an expanding desert garden and views of the hills and mountains of Joshua Tree National Park.



California Desert Protection Act Mural


---

This mural was painted to celebrate the 20th anniversary of the creation of California Desert Protection Act, which changed Joshua Tree National Monument and Death Valley National Monument into National Parks, and was a collaboration with Twentynine Palms artist Chuck Caplinger.



Roadrunner Mural


---

Art recently completed this small mural, featuring a local denizen with her dinner, in a private residence in this desert oasis town.



Balboa Pavilion Mural


---

The newest mural, completed in December on the Balboa Peninsula in Newport Beach. Plus a link to an article in "The Daily Pilot," the LA Times' Orange County supplement, which pretty much explains what the mural is about.



Best Murals In Los Angeles


---

The local CBS affiliate in LA just published an article on their website about "The Best Murals in Los Angeles," which includes my Alhambra Archway mural. It's an honor to be on their list, and an honor to be mentioned along with to Mr. Siqueiros.


CONTACT ART
---
Recent Mural Projects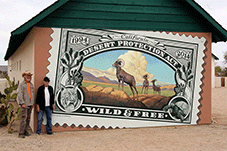 Desert Protection Act
---
Balboa Pavilion
---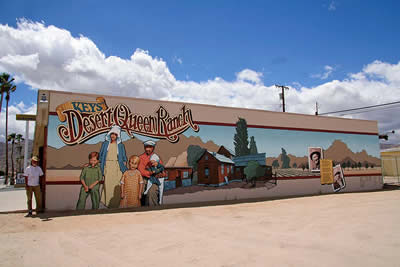 Keys' Desert Queen Ranch
---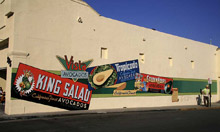 Vista Avocado Label
---

Hermosa Beach
---

Alhambra
---

Vista Sports Park
---